The Red Hill High School Homecoming Court is comprised of queen candidates (pictured front row from left) Darian Hankins, 17, of Bridgeport, daughter of Jenna and Jeremy Hankins; Maddy Liberman, 16, of Sumner, daughter of Mike and Nancy Liberman; Bailey Ferguson, 17, of Sumner, daughter of Eddie and Jill Ferguson; Emma Heath, 17, of Sumner, daughter of Neil and Beth Heath, and Rosie Aguirre, 17, of Bridgeport, daughter of Mario and Lisa Aguirre, and their escorts: Jacob Harms, 17, of Sumner, son of Pete and Amanda Harms; Lane Hill, 17, of Bridgeport, son of Dennis and Roxie Hill; Tyler Tucker, 17, of Bridgeport, son of Kelly and Laura Tucker; Bobby Thomas, 17, of Bridgeport, son of Rhonda and Bob Thomas, and Dyer Fontanyi, 17, of Sumner, son of Jim and Robin Fontanyi. Those not pictured; but who will be part of the court, are: Little Princess Carlee Seitzinger, 4, of Bridgeport, daughter of Chris and Brande Seitzinger, escorted by Little Prince Marshall Ryan, 4, of Bridgeport, son of Ashley and Amy Ryan. (Photo by Barbara E. Allender)
County Homecoming events are both next week
The Red Hill and Lawrenceville High School Homecoming activities will begin next week with student dress-up days, beginning on Monday.
For Red Hill students, the theme is "What's Up in the Big City" with "big city"-inspired floats or even a combination, like "surfs up" in L.A. or "mixed up" in New York. The parade is Friday, Sept. 31st at 5:00 p.m.
Library presents 'Jane Austen Speaks'
"The Lawrence Public Library is hosting an evening program called "Jane Austen Speaks" on Thursday, Sept. 29th, at 7:00 p.m. Performer Debra Miller will invite the audience to step back in time to the autumn of 1815 when Jane Austen's first three novels, Sense and Sensibility, Pride and Prejudice and Mansfield Park are published, and Emma is complete. Drawing from her letters, juvenilia, and novels, this 45 minute performance will delve into the personal life of one of the most beloved and intriguing novelists of the 19th century.
The W.B. Gray Center in Bridgeport is the gathering spot for the 19th Lawrence County C.R.O.P. walk this Sunday, September 25th.
Registration begins at the site at 1 p.m. with step off at 2 p.m.
C.R.O.P. (Communities Responding to Overcome Poverty) is an arm of Church World Services working to end hunger one step at a time built on connecting communities of means with communities of great need. The global outreach impacts millions of lives in pursuit to eradicate hunger and poverty.
BARGAIN PRICE FOR RETIREMENT MANSION IN DESIRABLE COMMUNITY

(Click on property for more information)
707 State Street, Lawrenceville
---
Price Reduced for Great Home in Sumner
(Click on property for more information)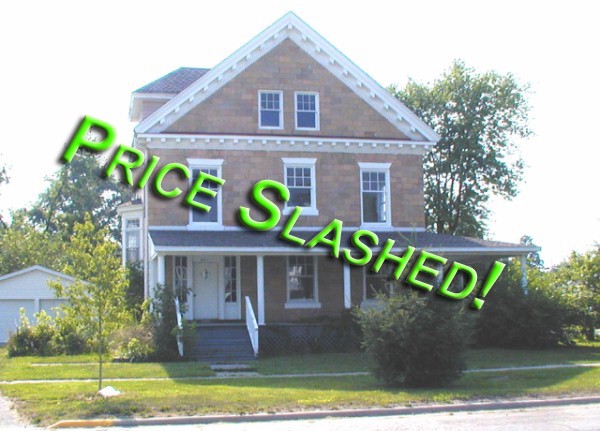 50l S. Christy, Sumner
St. Francisville Landmark is for sale
By Virginia Berry/
Press staff
The St. Francisville City Council is advertising to sell one of its historic landmarks.
During a meeting of the St. Francisville City Council on Wednesday, Sept. 14, it was stated that the Illinois Department of Transportation recommended that the city pursue the sale of the 13th Street Camelback Bridge.
Any potential buyer would need to provide proof of financial means to move the bridge. Letters have been sent to Peggy Baxter who was one of the residents instrumental in getting the bridge placed on the National Register of Historic Places. The Lawrence County Historical Society and others have also been notified.
The bridge is still functional. According to Mayor Don Ravellette, however, it would be a big expense for the city to purchase the decking and rails which need to be replaced.
Peggy Baxter asked permission to have the Memorial Service on the bridge again the Sunday before Christmas. The council agreed.