Bradley Fausnacht was the featured speaker at the Monday night meeting of the Lawrence County Historical Society. Those attending were interested in hearing about the recent designation of the St. Francisville 13th Street Bridge to the National Historic Registry. A retired engineer, he marveled at the construction of the bridge which was designed and built by a railroad company in 1908. Due to the work of the village residents with a petition and an information packet sent to the state, Fausnacht said, "they saw what we saw." Although traffic still travels across the bridge, its safety may become a concern. Options for safety, as well as ways to encourage tourism viewing, are now on the minds of residents. (Photo by Barbara E. Allender)
Promotion exercises for the eighth grade class of Red Hill Jr. High School were conducted on Wednesday, May 18. Awards presented included five students earning Straight A's throughout their junior high years. They were: Ali Andrews, Allie Johnson, Whitney Labo, Hannah Murray and Nicklaus Scherer.
A new flag pole, donated and set by the Josh Galloway Sawmill in the Sumner City Cemetery, was made complete with the raising of a flag on Monday. Local veterans, representing four military branches, raised the flag. They were: Harold "Friss" Fiscus, U.S. Navy (1967-70); Jeremy Hankins, U.S. Air Force (1992-2000); Gregory T. Duggar, U.S. Army (1992-2015); Gary Hankins, U.S. Marine Corp (1966-70), and Dennis Bridwell, U.S. Army (1971-73). A memorial ceremony will be at 11 a.m. in the Lawrenceville City Cemetery on Monday. (Photos by Barbara E. Allender)
Lawrence Public Library launches Summer Reading Program
The Lawrence Public Library launches its "Read--for the Win!" Summer Reading Program on Thursday, June 9. During the next two months, the library will host a variety of free activities for children up to 12 years old to encourage and support a love of reading. Participants also can win prizes for reaching their reading goals.
(To read more, subscribe to The Sumner Press today!)
BARGAIN PRICE FOR RETIREMENT MANSION IN DESIRABLE COMMUNITY

(Click on property for more information)
707 State Street, Lawrenceville
---
Price Reduced for Great Home in Sumner
(Click on property for more information)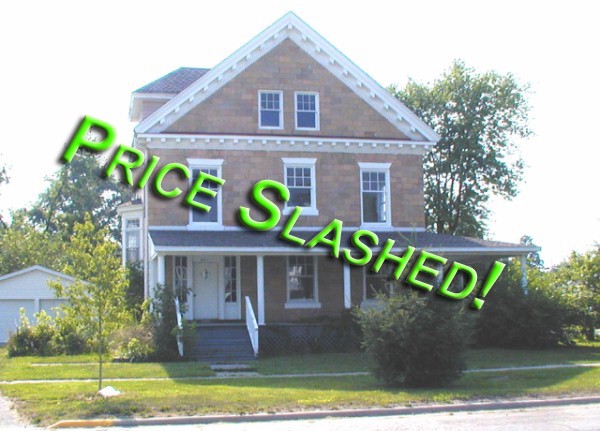 50l S. Christy, Sumner
Veterans to be honored with cookout
Aperion Care in Bridgeport will be hosting a cookout to honor military veterans and first responders, Monday, May 30 from 11 a.m.—1 p.m. Their meal will be free of charge. Others wishing to enjoy the luncheon meal may do so for $3. A portion of those proceeds will benefit the 'Shop with a Cop' program.
Also, beginning on May 27, Aperion will be having "Food Truck Friday's" every other Friday throughout the summer months.
Different vendors from the area will set up in the parking lot to provide the opportunity for the staff and community to come to the facility for lunch.
This week Kolb's Culinary Creations will be on site.
County dedicates funds to road, bridge work
By Barbara E. Allender
The focus of the Lawrence County Board meeting agenda on Wednesday, May 18 was roads and bridges.
County Engineer Richard Trowbridge presented the low bids for motor fuel tax maintenance programs. Materials were estimated at a cost of $142,800. For Allison Township, an additional $25,083.54 and Lawrence Township, $38,765 were given.
(To read more, subscribe to The Sumner Press today!)