Talent contest performers at the Third Annual Harmony Fest near St. Francisville, Saturday, gave it their all for a first place $100 prize, won by Amy Jo Madden (bottom) of St. Francisville, and a $75 second place prize, won by the Lindner children of Boonville, Ind. Former Bridgeport resident, Amanda Biggs, now residing in Bloomington, Ind., completed the day of live music, hosted by The Adams Family.
The Canoe Olympics kept 13 lucky participants cool in the waters of Red Hills State Park Lake on Sunday afternoon. Tarron Clark of Sumner (above) rows to a winning finish, while Andrew Patton and Leavitt Price (at right) are warming up to row in the events. (Photos by Barbara E. Allender)
Local restaurant takes on new management
Glenn Dremstedt of Lawrenceville is taking over management duties of "Irene's" restaurant on Christy Avenue in Sumner. Glenn currently runs two other restaurants, "Glenno's" in Lawrenceville and the "Corner Café" in Vincennes.
"Irene's" offers homestyle cooking, family setting, daily specials and on Friday nights an all-you-can eat Fish Dinner. Hours of operation will be Mon-Sat 6am-2pm. Friday nights 5pm-8pm and Sunday 8am-2pm.
Lawrence County Board gets good news
By Barbara E. Allender
The Lawrence County Board heard positive results of a recent financial audit for 2013 performed by Curt Benson of Kemper CPA group. The Board approved the audit.
County Engineer Richard Trowbridge brought a request to the Board for aid to build a bridge in Russell Township. The $75,000 project receives 80 percent of its funding from the state and 10 percent from the road district. However, 10 percent is needed from the County. It was approved by the Board.
Lawrenceville Unit 20 School Board
By Barbara E. Allender
The Lawrenceville Community Unit School District #20 approved a tentative budget during its Wednesday, Aug. 20 meeting.
The district expected to start the year off with state payments in the amount of $600,000. Since it won't receive that, budget projections are off by $130,000. While the district should be getting $5.4 million, the state has confirmed that it will be getting $4.8 million.
BARGAIN PRICE FOR RETIREMENT MANSION IN DESIRABLE COMMUNITY

Click on property for more information)
707 State Street, Lawrenceville -- $100,000
---
Price Reduced for Great Home in Sumner

(Click on property for more information)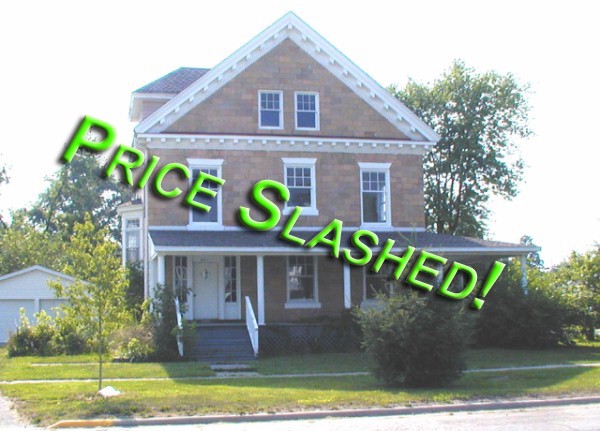 50l S. Christy, Sumner
Unit #10 Budget looking better, still 'in the red'
By Vickie Shoulders
The Red Hill Unit #10 board met in regular session on Thursday, August 21 at 7 pm in the Red Hill Jr/Sr High School Library. All board members were present with the exception of Bruce Jones.
With the financial pinch that the school district has been in, the fiscal year 2015 budget is beginning to look a little better. At the end of the fiscal year 2014, the district had a deficit of $625,000 to $800,000. With the board making many cost cutting decisions, the fiscal year 2015 budget will end with a deficit of around $83,000 for the four operating funds. Still not operating the way the board would like, but heading in the right direction.
City of Bridgeport will seek additional police protection
By Barbara E. Allender
The Bridgeport City Council is doing what it can to keep citizens safe. During the rescheduled Wednesday, Aug. 20 meeting, the Council decided to seek a part-time police officer.
With complaints of ATV riders on the streets and other ordinance violations, Alderman T.J. McClellan made the motion, seconded by Robin Wirth, to advertise for an officer to work 12-16 hours a week.
Organizers get ready for Sumner Fall Festival
There's "No Place Like Home" is the theme of this years Sumner Fall Festival. The Sumner Booster Club has planned a packed schedule of entertainment for the three-day event, Thursday, Sept. 4—Saturday, Sept. 6.